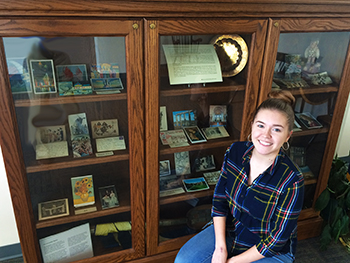 History of Art and Architecture offers a variety of internship opportunities for its undergraduate students to gain professional experience in galleries, museums and the cultural sector. Students can gain work experience in several ways:
Academic Internships
Museum Studies secure an internship for academic credit as part of their requirements. These take place during the fall and spring semesters, and include regular cohort meetings with peer interns. Students interested in pursuing an academic internship should contact Alex Taylor alex.taylor@pitt.edu.
Summer Fellowships
Students can apply for one of four annual fellowships at local cultural institutions supported by the Fine Foundation and the Andrew W. Mellon Foundation. These usually take place each summer, and include a $3500 stipend. Available positions will be advertised to students in the Spring semester.
National Internships
Our students have also been competitive, securing appointments at national internship programs at the Philadelphia Museum of Art, the Barnes Foundation, the Guggenheim, the Smithsonian Institutions, and elsewhere. A comprehensive database of these opportunities is available to students on the departmental advising site on CourseWeb.
Learn more about internship experiences here.