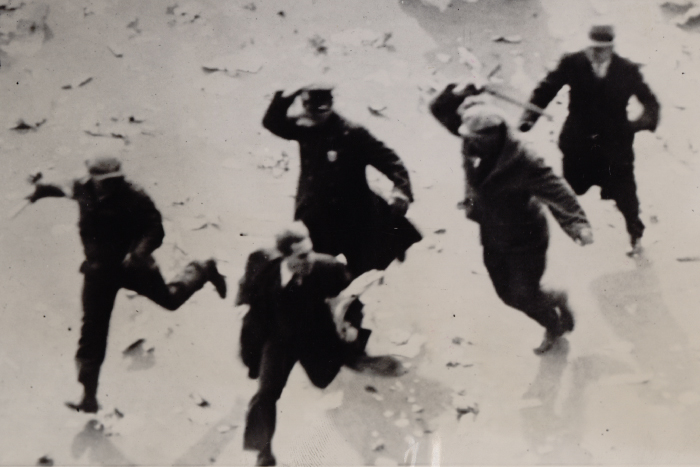 Work Forces: Mobilizing the Visual and Material Cultures of Labor: Monday May 6 – Friday May 10, 2019
Co-leaders: Alex Taylor and Barbara McCloskey
The forces of labor have long shaped the collections of Pittsburgh. Many of the city's museums and archives manifest the vast wealth generated through the efforts of its workers, and sometimes were formed with their improvement in mind. In other instances, collections testify to Pittsburgh's long and preeminent role in the history of organized labor and worker's struggle, and the environmental and social impacts of industrialization, deindustrialization, and the city's move toward a tech economy. Local museums and archives also contain traces of the material knowledge and techniques of skilled makers, and record forms of artistic collectivity borrowed from diverse spheres of productive endeavor.
This week-long, collection-based workshop sought to imagine new ways to engage with Pittsburgh's artistic and archival manifestations of labor. Some of the themes explored include:
how museum and library holdings can help trace the changing nature of labor in Pittsburgh, artistic or otherwise;
how these collections might connect local labor histories to the transformative forces of globalization; and
how these historic materials connect to urgent contemporary questions of social and economic inequality.
Workshop participants will have the opportunity to contribute to the early intellectual development of Working Thought, a major exhibition at the Carnegie Museum of Art in 2020. Curated by Eric Crosby, Richard Armstrong Senior Curator of Modern and Contemporary Art, Working Thought will present the work of some 25 contemporary artists who engage critically with issues of labor and economic inequality in our nation, past and present.
Explore the workshop program here
Learn about the workshop participants here
*Image: Demonstration at Union Square on "Red Thursday" Being Broken Up.
American Left Ephemera Collection, 875-2015, 1930. AIS.2007.11, Archives & Special Collections, University of Pittsburgh Library System.