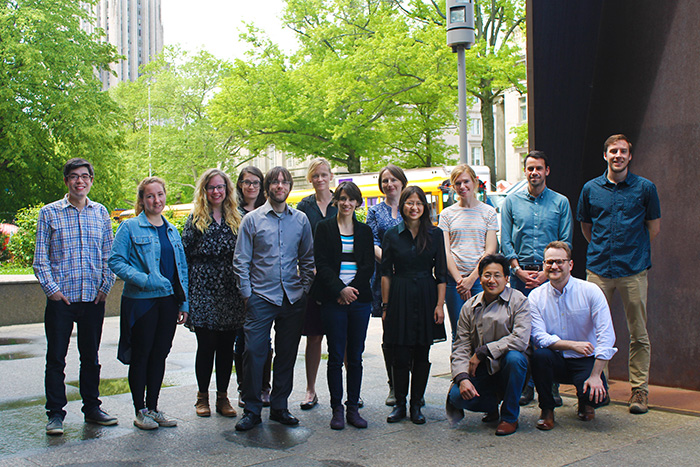 Alex J Taylor (co-leader) is Assistant Professor and Academic Curator in History of Art and Architecture. His research into the ideological dimensions of landscape painting have included curating Lie of the Land: New Australian Landscapes (2012) and contributing to the catalogue for Australia's Impressionists (2017) at the National Gallery, London. He is currently working on several projects related to art, consumption and environmentalism in the 1960s.
Isabelle Chartier (co-leader) is Lecturer in the Department of History of Art and Architecture and curator of the University Art Gallery (UAG), where she oversees the exhibition program as well as a permanent collection of nearly 3,000 objects. She is currently working on an exhibition project that will focus on the representation of contaminated sites.
Ben Gordon is the Perlow Lecturer in the Department of Religious Studies. He is interested in the history of religion in the ancient Mediterranean, with a focus on Judaism in Greco-Roman Palestine. His forthcoming book, Land and Temple, looks at how ancient temples promoted land settlement and resource extraction.
Zachary Horton is an Assistant Professor of English. His research focuses on the intersection of technological mediation, ecology, and scale. His current projects include a study of the "cosmic zoom" and the development of a trans-disciplinary theory of scale, as well as a cultural history of geoengineering.  He is also a filmmaker and camera designer.
Philip Kao is a Visiting Assistant Professor in the Department of Anthropology. His current research focuses on the nature of labor and inequality as experienced by boomtown frackers as well as culture and agriculture in the anthropocene. He is interested in working with local museums to investigate the technology, politics and aesthetics of seed (bank) storage and representation.
Jennifer Waldron is Associate Professor of English and Director of the Program in Medieval and Renaissance Studies at the University of Pittsburgh. She has published articles on early modern embodiment, post-Reformation theatre, and Shakespeare. Her first book was Reformations of the Body: Idolatry, Sacrifice, and Early Modern Theatre (Palgrave, 2013). Her current book project charts Shakespeare's many experiments with cross-model sensory and linguistic effects in light of recent developments in cognitive neuroscience and media theory.
Emily Wanderer is an anthropologist of science who works primarily in Latin America. Her research integrates medical and environmental anthropology to ask how biological research generates new understandings of nature and how these in turn reshape human practices and uses of the environment.
Shelby Brewster is a theatre scholar and director currently pursuing a PhD in Theatre and Performance Studies at the University of Pittsburgh. Her research interests include science and technology studies, media studies, and science fiction studies. Her current project examines global food systems in the Anthropocene through performance.
Evan Chen is a doctoral student in Pitt's Film Studies program. His work is concerned with how marginalized subjectivities and their histories are aestheticized within discourse and media. In reference to film, he is interested in how theories of the close-up have been inflected by ideas borrowed from scientific racism.
Kaitlyn Haynal is a PhD candidate in the Department of Communication interested in rhetoric, sustainability, public memory, and place and space. She is excited to explore artifacts that will inform her study of how humans have responded to environmental sustainability threats throughout the rise and fall of industrialization in Pittsburgh.
Mitchell Kiefer is a doctoral student in the University of Pittsburgh's sociology program. His research centers on human-environment relations. Specifically, he is interested in the construction of narratives, representations, and behaviors concerning natural disasters, as well as the relationship between power and material places.
Colleen O'Reilly is a PhD candidate in History of Art and Architecture at the University of Pittsburgh. Her research areas include the history of photography, intersections between art and science, and the use of images in education in twentieth century America.
Aisling Quigley is a PhD student in the School of Computing and Information, where her research focuses on museum computing and online exhibitions. She also engages with the topics of digital preservation and sustainability, most often in relation to digital humanities projects. With a background in studio arts and ample experience working in museums, libraries, and archives, Aisling approaches her research as both a practitioner and scholar.
Melissa Yang is a PhD student specializing in Composition and Rhetoric in the English Department, where she teaches courses in writing and digital media. She draws from artistic, literary, scientific, and rhetorical inquiries in her research on cultural histories of birds, while exploring the possibilities of mixed-genre, multimodal compositions.