Pittsburgh is home to some of the most extraordinary collections and archives in the country. Founded through a grant from the Andrew W. Mellon Foundation in 2015, Collecting Knowledge Pittsburgh continues to engage with these rich holdings, and fosters opportunities for collaboration between Pitt faculty, students, and the local cultural sector.
Project outcomes have included object-based workshops for students and faculty in local collections, collaborative exhibitions, public programs, and digital initiatives. Through these activities, the History of Art and Architecture department works with the local sector to share information and expertise, and foster collaboration in research, teaching, and public engagement.
Partners
We have collaborated with many of Pittsburgh's most important museums, galleries and archives. The initiative has brought together eleven partner institutions from across the city for a range of workshops, projects and placements:

The Carnegie Museum of Art enriches people's lives through collecting, conserving, presenting, and interpreting great works of art. Its world-class collection of over 30,000 works emphasizes art, architecture, photography, and design from the 17th century to the present. 

Carnegie Museum of Natural History, one of the four Carnegie Museums of Pittsburgh, is among the top natural history museums in the country. It maintains, preserves, and interprets an extraordinary collection of artifacts, objects, and scientific specimens used to broaden understanding of evolution, conservation, and biodiversity. Carnegie Museum of Natural History generates new scientific knowledge, advances science literacy, and inspires visitors of all ages to become passionate about science, nature, and world cultures.

Founded by Andrew Carnegie in 1895, Carnegie Museums of Pittsburgh is a collection of four distinctive museums: Carnegie Museum of Art, Carnegie Museum of Natural History, Carnegie Science Center, and The Andy Warhol Museum. The museums reach more than 1.4 million people annually through exhibitions, educational programs, outreach activities, and special events.

Presenting contemporary art in craft media by international, national and regional artists since 1971, Contemporary Craft offers cutting edge exhibitions focused on multicultural diversity and non-mainstream art, as well as a range of classes, community outreach programs, and a retail store.

Hunt Institute specializes in the history of botany and all aspects of plant science and serves the international scientific community through research and documentation. To this end, the Institute acquires and maintains authoritative collections of books, plant images, manuscripts, portraits and data files, and provides publications and other modes of information service.

The Mattress Factory was founded in 1977, by artists, to support artists working in residence to create site-specific installations. The Mattress Factory has pioneered the development of alternative art forms through site-specific installations, video, and performance art. It is nationally and internationally recognized as a leader in site-specific, contemporary art and is notorious for pushing the boundaries of both artist and viewer. Since its founding, the Mattress Factory has been a catalyst for community revitalization on Pittsburgh's North Side.
 The Rivers of Steel National Heritage Area is committed to preserving, interpreting, and managing the historic, cultural, and natural resources related to Big Steel and its related industries. Encompassing over 5,000 square miles in the eight counties of Allegheny, Armstrong, Beaver, Butler, Greene, Fayette, Washington, and Westmoreland, Rivers of Steel is building on this area's remarkable transition from heavy industry to high technology and diversified services as well as bolstering the new regional economy by promoting tourism and economic development based on this region's historic industrial saga.

The Senator John Heinz History Center is an educational institution that engages and inspires a large and diverse audience with links to the past, understanding in the present, and guidance for the future by preserving regional history and presenting the American experience with a Western Pennsylvania connection. This work is accomplished in partnership with others through archaeology, archives, artifact collections, conservation, educational programs, exhibitions, library, museums, performance, publications, research, technical assistance, and increasingly through broadcast media and the internet.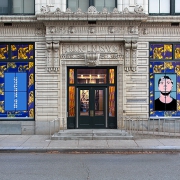 The Andy Warhol Museum holds the largest collection of artworks and archival materials from the Pittsburgh-born pop art icon Andy Warhol. It is one of the most comprehensive single-artist museums in the world and the largest in North America. The Andy Warhol Museum is one of the four Carnegie Museums of Pittsburgh and a collaborative project between Carnegie Institute, Dia Art Foundation, and The Andy Warhol Foundation for the Visual Arts, Inc.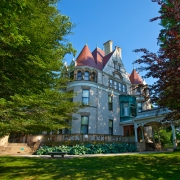 The Frick Pittsburgh is a museum located on nearly six acres of beautifully landscaped lawns and gardens in the city's historic East End. The permanent collection of fine and decorative arts, cars, carriages, buildings, and other items related to the Frick family's life in Pittsburgh, are the legacy of Mr. Frick's daughter, Helen Clay Frick, who inherited Clayton and its contents in 1919.

Administered by the Department of History of Art and Architecture, the UAG is the major repository of art at the University of Pittsburgh, with a collection of more than 3,000 objects from around the world and from a diverse range of periods. Gallery holdings include some valuable American paintings, a rich collection of European, British and American works on paper, Inuit carvings, and Japanese and Chinese scrolls and sculpture.

The University of Pittsburgh University Library System (ULS) has the 25th largest academic library collection in North America. It includes 12 libraries and holds more than 7.1 million volumes, major foreign language materials from around the world, and distinctive collections such as illuminated manuscript facsimiles, artist books, the Archive of Scientific Philosophy, and the Archives of Industrial Society. The ULS offers state-of-the-art facilities and services including digital library collections and services, a robust Open Access publishing program, and innovative services supporting digital scholarship.