Decomposing Bodies is a project of the VMW focused on the creation, curation, and management of a data-rich digital collection of archival objects dealing with representations of human bodies and the history of identity, identification and incarceration in late 19th- early 20th-century America. Alphonse Bertillon, a French policeman, anthropologist and inventor, developed a system of criminal identification that sought to classify human beings on individual standardized cards, each containing a consistent set of biometric measurements and observations. This process, now known more familiarly as "Bertillonage," was essentially a system that disassembled the visual forms of the human body into small pieces so that the police could individuate, and thus identify, a single human body from others.  
A project that has been ongoing at the lab since 2014, Decomposing Bodies is a collection of the digital images of thousands of Bertillon cards, depicting prisoners at two Ohio institutions: the Ohio Penitentiary and the Ohio State Reformatory. Digital photos of these cards were created from the collection of the Ohio History Connection, in Columbus, Ohio. The project's focus for the coming year is on classifying these cards by type, and creating transcriptions of the measurements and descriptions written on them, as well as organizing and managing the huge amounts of data that this process creates, and working towards making that data accessible.
Decomposing Bodies is now being managed by S.E. Hackney, a doctoral student at the iSchool in Library and Information Science. The project's focus for the coming year will be in building a unified online collection and corresponding data set for the more than 12,500 Bertillon cards in the digitized collection, as well as beginning to consider the institutions, people, objects, and data that appear within it. This new phase of the project also seeks to ask engaging questions of this content, and present innovative arguments about the history of policing, prison and surveillance in America.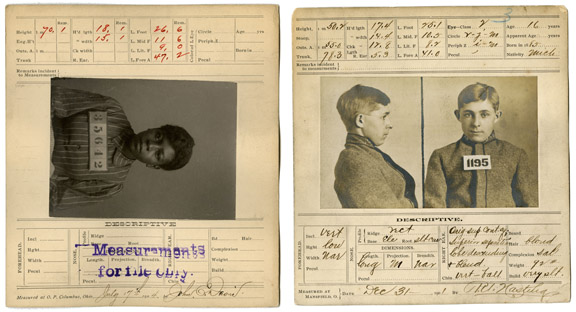 Images Courtesy of the Ohio History Connection, Columbus, Ohio