Melissa Eppihimer will soon be publishing an article based on her research into the history of ancient Near Eastern seals in European collections and scholarship.  "A Paradox of Eighteenth-century Antiquarianism: 'Persian' Gems Among the Tassie Casts" will appear in the Journal of the History of Collections. She created a new course for Spring 2015 (Temples, Tombs, and Palaces: Ancient Near Eastern Art in Context) and co-organized an undergraduate interdisciplinary research symposium (Our Forum: Ancient Studies at Pitt).  Last year she delivered a public lecture and participated in a seminar at Brown University as an invited speaker in the series "Babylon@Brown: Past, Present and Future in the Study of the Ancient Near East."
In 2014, Jennifer Josten contributed essays to two exhibition catalogues: Desafío a la estabilidad / Defying Stability: Art and Visual Culture in Mexico, 1952–1967, held at the Museo Universitario de Arte Contemporáneo of the UNAM in Mexico City; and El retorno de la serpiente: Mathias Goeritz y la invención de la Arquitectura Emocional, organized by the Museo Reina Sofía in Madrid, Spain. She also co-chaired the Emerging Scholars of Latin American Art panel at CAA 2014 and presented a paper at "Aquí, allá y en el medio / Here, There, and In-Between: Transnational Encounters in Latin American Art," a symposium at the Universidad de los Andes in Bogotá, Colombia. Field trips with HAA graduate and undergraduate students provided wonderful opportunities to discuss important examples of Latin American art in the U.S. firsthand at sites ranging from the Detroit Institute of Arts in 2013, to Oberlin College's Allen Memorial Art Museum and OSU's Wexner Center for the Arts in 2014, to Olvera Street and the Getty Research Institute in Los Angeles in 2015.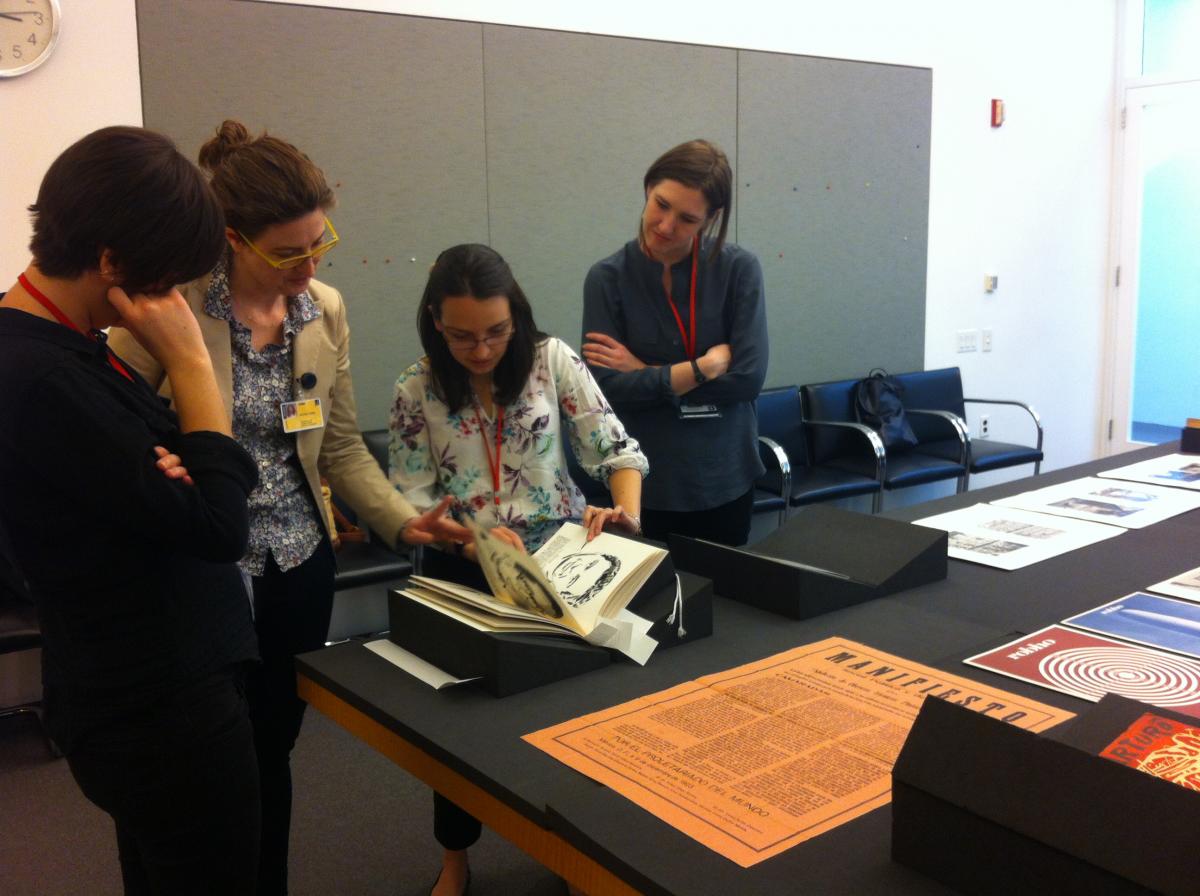 Jennifer Josten with HAA graduate students in Special Collections at the Getty Research Institute, March 2015 (photo: Nicole Scalissi)

Barbara McCloskey is completing her second full year as chair of the department.  She is very excited by the new developments taking place in our program thanks to the extraordinary generosity of the administration and the Dietrich endowment fund, and to the Mellon Foundation grant bestowed on the department in January 2015.  She looks forward to working with her colleagues in the coming years to revamp our curriculum in light of the wonderful new opportunities these funds will allow us to extend to our students.  In fall 2014, she delivered two papers, the first at a conference on the subject of East German Art hosted at Iowa State University by our former alum, April Eisman, and the second in a seminar on the topic of art, war, and trauma at the German Studies Association meeting in Kansas City, Missouri.  Her most recent book, The Exile of George Grosz: Modernism, America, and the One World Order, was published by University of California Press in January 2015.
On Friday, September 12, 2014, Professor Gao Minglu's exhibition, Long Scroll: Allegorization of the World opened at the Distance Gallery in Tianjin, China. This was its second reception, occurring two days after its first, which coincided with the opening day of the World Economic Forum, also known as the Davos Economic Forum, held at the Tianjin Museum of Art.  Featuring artists Li Shan, Xu Bing, Ren Jian, Deng Guoyuan, Cai Jin, Cui Xiuwen, and Li Zhanyang, the exhibition explores the myriad ways contemporary Chinese artists have incorporated the ancient Chinese form of the scroll into their contemporary art practices. Ranging in medium from sculpture to digital video and photography to ink painting, the exhibition highlights the ways in which the concept of the scroll has been appropriated and modified to address contemporary and often globally-ranging concerns such as urbanization, global conflict, and biogenetics. According to Professor Gao in the forward to the exhibition catalogue, "…the artists attempt to display the complexity and richness of the present world by making different kinds of virtual images and stories, in order to uncover the contradiction between the micro and macro world, and so as to express people's eagerness to understand the world as a unity." In this way, each work gives us a glimpse into the artists' worldview through allegory, perhaps the only viable method for expressing one's own understanding of our increasingly complex and ungraspable global condition. Professor Gao was accompanied to the opening reception by Lihui Dong, Madeline Eschenburg, and Ellen Larson, his three PhD students from the department of the History of Art and Architecture.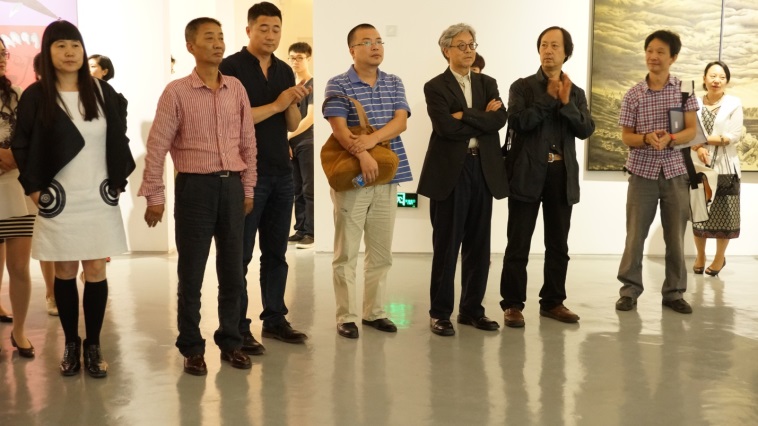 Professor Gao posing with Artists of Long Scroll. From Left to Right: Cai Jin, Deng Guoyuan, Li Zhanyang, Gao Minglu, Ren Jian



Gao Minglu's students at the event. From left to right: Ellen Larson, Madeline Eschenburg, and Lihui Dong.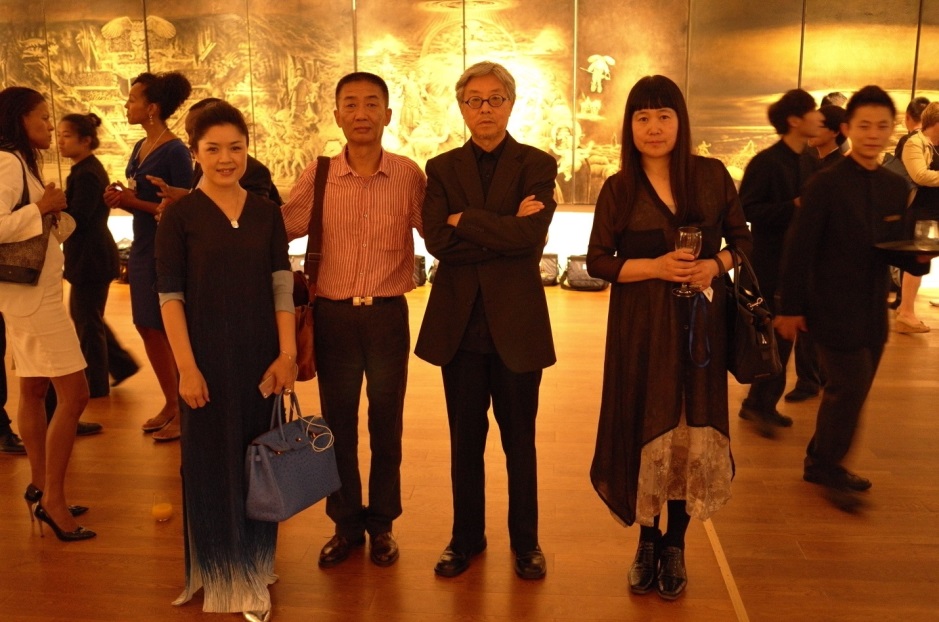 Left to right: Cui Xiuwen, Dong Guoyuan, Gao Minglu, Cai Jin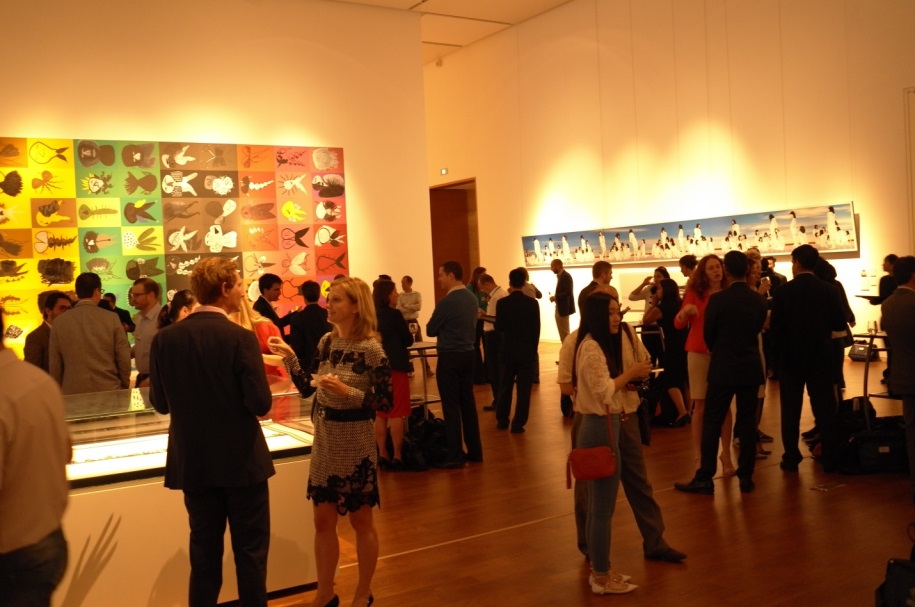 View of entire exhibition.

Christopher Nygren began his residence in Pittsburgh in the fall of 2014 after a year-long post-doc at Emory in Atlanta, GA. He's kept very busy during his first year. Last fall semester he co-taught the graduate seminar on Historiography with Josh Ellenbogen; during the spring Professor Nygren introduced a new version of European Visual Traditions, which has been great fun. He's also proposed a new course for next academic year, which focuses on the early modern Spanish world, looking at Spain and Latin American from about 1200-1700 which has been approved for a number of gen. ed. requirements. This spring Nygren presented work at the University of Tel Aviv and the Humboldt in Berlin, and will be presenting on "Lorenzo Valla's Early Modern Thing Theory" in Warsaw this summer. In the coming months, he'll have articles appearing in Word & Image, Renaissance Quarterly, and the Mitteilungen des Kunsthistorischen Institutes in Florenz (Max-Planck Institut), among others.  

Terry Smith led two workshops at Carleton University, and presented a keynote lecture at the National Gallery of Canada. Since 2000, US-based, Australian art historian Terry Smith has argued that artists, architects, curators and art theorists have been responding to the nature of contemporary reality in terms of its definitive quality, its differential contemporaneity. He discussed the key ideas underlying his widely read and often controversial books, including What is Contemporary Art? (University of Chicago Press, 2009), Contemporary Art: World Currents (Laurence King and Pearson/Prentice Hall, 2011), and Thinking Contemporary Curating (Independent Curators International, New York, 2012). See www.terryesmith.net/web/
This residency is sponsored by: Sotheby's, the Centre for Transnational Studies, Faculty of Arts and Social Sciences, Institute for Comparative Studies in Literature, Art, and Culture, Migration and Diaspora Studies, School for Studies in Art and Culture. For over a decade, US-based, Australian art historian Terry Smith has argued that artists, architects, curators and art theorists have been responding to the nature of contemporary reality in terms of its definitive quality, its differential contemporaneity. He discusses the key ideas underlying his widely read and often controversial books, including: What Is Contemporary Art? (2009), Contemporary Art: World Currents (2011) and Thinking Contemporary Curating (2012). Terry Smith presented "Contemporaneity and Contemporary Art" at the Aarhus Institute of Advanced Studies (AIAS), Aarhus University (2014)

Alison Stones published Part II of her 4-volume study of French manuscripts: Manuscripts Illuminated in France, Gothic Manuscripts 1260-1320, Part II, vols. 1 and 2 (Harvey Miller/Brepols, 2014).  In 2014 she also published 4 articles in collections of essays ('Stories in pictures and their transmission: a comparative approach to the manuscripts of the Lancelot-Grail romance,' in Res gestae-res pictae: Epen-Illustrationen des 13. bis 15. Jahrhunderts, ed. C. Cipollaro and M. Theisen (Codices Manuscripti et Impressi, Supplementum 9, Vienna), 40-51;'Lancelot and Identity,' in Marqueurs d'identité dans la littérature médiévale: mettre en signe l'individu et la famille (XIIe-XVe siècles), ed. C. Girbea, L. Hablot, R Radulescu (Histoires de famille.  La parenté au Moyen Age, coll. dirigée par M. Aurell, 17) (Turnhout: Brepols), 217-42; 'Scriptorium: the term and its history,' in Perspective: La revue de l'INHA, Actualités de la recherche en histoire de l'art: L'atelier (Paris: INHA), 113-20;'Manuscripts Illuminated in France 1260-1320 and their Patrons,' in Wege zum illuminierten Buch, eds. E. Kubina and C. Beier (Vienna: Böhlau), 26-44; 4 reviews (in Scriptorium, Speculum, Studies in Iconography, The Medieval Review) and contributed 5 catalogue entries for the exhibition Saint Louis held at the Conciergerie in Paris.  She read papers at conferences in Brussels, Lille, Oxford, and Paris.  She was awarded the rank of Chevalier de l'Ordre des Arts et des Lettres from the Ministre de la Culture et de la Communication (République Française), dated 20 May, 2014. 

A year ago Frank Toker taught an undergraduate seminar on Florence Cathedral and a lecture-course on the architecture and urbanism of Pittsburgh, both with fieldtrips. The trip for the Pittsburgh course was fun, with a visit to the only remaining mansion of the original Kaufmann brothers, an elegant house on the North Side. The trip for the Florence course was a little more complicated, with close to week in Florence, Pisa, Lucca and a nearly intact but freezing Romanesque church on the slopes of the Apennines. In Fall Term 2014 Frank taught Introduction to Western Architecture, Early Renaissance, and Early American architecture. There were some fieldtrips on foot and one on bus to see eight important early buildings and a cast-iron bridge within 12 hours around Pittsburgh. The third of Frank's Florence Cathedral volumes is progressing well, and he sent an article on his findings of an undetected house-church under the Baptistery of S. Giovanni to The Art Bulletin. On a personal note, Frank and Ellen welcomed grandchild number six, Mason Burack Toker, and Frank got his late grandmother, Berthe Herzberg-Serchuk, named an "eminent citizen" of Quebec City, with a baby-blue plaque affixed to the house of his great-grandfather Frank Herzberg, which still stands there.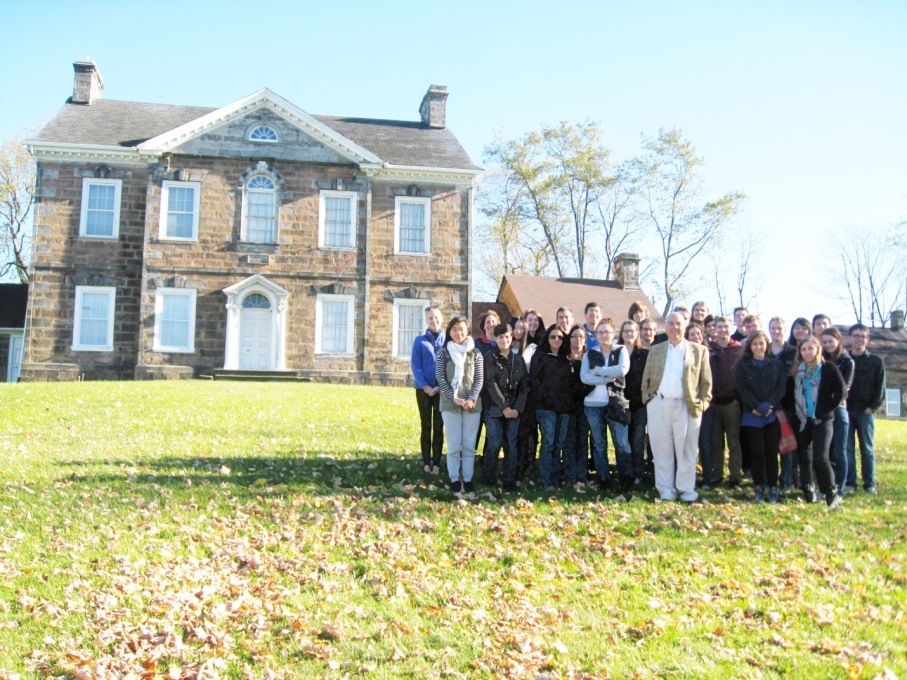 Frank Toker on fieldtrip to see early American architecture south of Pittsburgh. October 26, 2014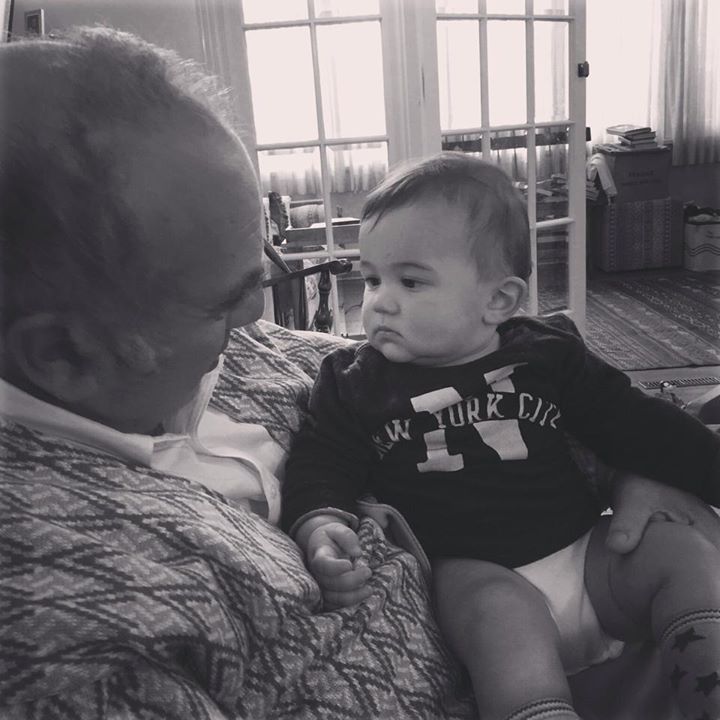 Frank and Mason Toker

Carrie Weaver is a Postdoctoral Fellow of the Kenneth P. Dietrich School of Arts and Sciences. Her book, The Bioarchaeology of Classical Kamarina: Life and Death in Greek Sicily (University Press of Florida), is in press and will appear in August 2015.

Professor Emeritus David Wilkins and his wife Ann continue to teach their one-credit course on "Modern Art and Architecture in Rome, 1870 to the Present" twice a year, in the spring and fall, for the Duquesne University Rome Program. They emphasize the architecture and urban planning that transformed Rome from a papal city into the capital of a new nation; the art of the Futurists; the role of art, architecture, and urban planning in Mussolini's Fascist propaganda machine; the architecture that marked the city and nation's recovery in the new Italian Republic; and the contemporary art and architecture that now enliven Rome and its suburbs. They also lead DU students on a trip to Vesuvius, Pompeii, Paestum, Vietri-sul-Mare, and the Isle of Capri and assist in helping students understand the cross-cultural experience of living and studying in Rome. When not teaching, they continue to pursue the in-depth exploration of the role of food and friendship in understanding Italian culture. Their co-authored book on Cass Gilbert's West Virginia's State Capitol won a Gold Medal for Best Book on Mid-Western History in the 2014 Independent Publishers Book Awards Competition. The two especially enjoyed perusing the rich personal and institutional archives that allowed them to reconstruct the commission, design, and construction of this beautiful building. Their permanent home is on Silver Lake in Madison, New Hampshire but enjoy visiting their daughters and their families in Pittsburgh and New York City and retreating to Florida during the worst of the New Hampshire winter. They are resuming work on an earlier project tentatively entitled "Rural Enlightenment: The Architectural and Social History of New Hampshire's Public Libraries." Their contact information is wilkins@duq.edu (Ann) and wilkinsdavidgeorge@yahoo.com (David).