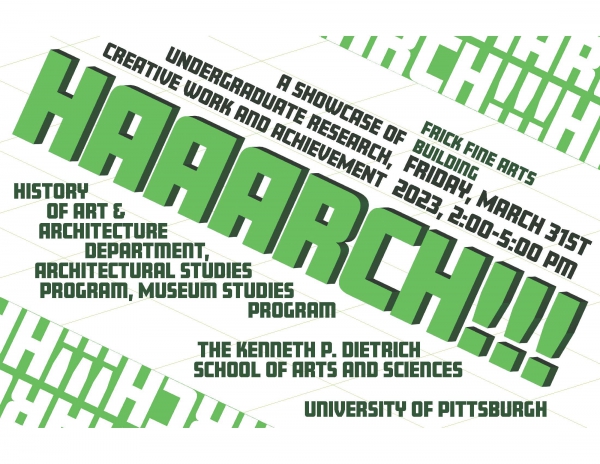 HAAARCH!!! is an annual showcase that features the accomplishments of our undergraduates in the History of Art and Architecture, Architectural Studies, and Museum Studies majors. Presenters at this event include students who have completed independent research through our honors program, engaged in substantive internships with community partners in our Collecting Knowledge Pittsburgh consortium, and those who have produced exemplary creative work in our architectural design studios. Save the date and we hope you will join us in celebrating our students' achievements and successes! 
HAAARCH!!! Thesis Presentations: Friday, March 31, 2023
Session 1 - 2 to 3pm 
Margaret Barnes, "'My Coheir in the Kingdom and Spouse': Artemisia Gentileschi's Madonna and Child as the Heavenly Bride and Bridegroom"
Elizabeth Dragus, "The Conversation Between Art and Text"
Heather Hershberger, "Non-Finito in the Quest for a Magnum Opus"
Peyton Statella, "Fashion, Gender Roles, and Political Critique: The New Woman and the Dismantling of Gender"
Lillian Forrest, "Public Memorials as Mitigations of Violence"
Session 2 - 4 to 5pm
 Alyssa Carnevali, "The Unrecognized Artist of the Neue Frau: Lotte Laserstein"
Lydia Daily, "Abby Aldrich Rockefeller: A Patron for Worker's Rights"
Pierce Mitchell, "The Dark Side of Dr. Seuss"
Chrislynn Brownlee, "Choices Can De Productive": A Moment with Tony Coakes"
Toni Brayo, "Kent Monkman: Challenging Teleology in Museums and Art History"
Architectural Studies Presentations 
ARC 0201 | Foundation Studio

Dhara Patel 
Hannah O'Dea 
Priya Sahu 
Carson Probert 
Anna Gershenson 
Demetrius Keyes 
Andrea Mora 
Benji Kaplan 
ARC 1201 | Design Studio 1
Navjot Pabla
Olivia Crowther 
Sam Jordan 
Abby Feldmann 
ARC 1202 | Design Studio 2
Ricky Xiong 
Jessica Pekor  
Kathryn Litak 
Julia Lako 
ARC 1203  | Design Studio 3

Jack Eschmann and Rick Trevino 
Rachel Gibas and Amanda Halsey 
ARC 1204  | Design Studio 4
Francesco Gloninger  
Delaney Mullen