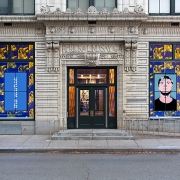 The Andy Warhol Museum has appointed HAA alum Tyler Shine as its assistant curator of art. Shine arrives at The Warhol from the University of Pennsylvania where he is a doctoral candidate in history of art. Shine was a fellow in the Prints, Drawings and Photographs Department at the Philadelphia Museum of Art from 2016 to 2018. While there, he curated the exhibition Experiments in Motion: Photographs from the Collection. He also worked at The Phillips Collection and the Institute of Contemporary Art, Philadelphia.

Prior to the University of Pennsylvania, Shine attended the University of Maryland, where he earned a Master of Art in history of art. Shine graduated from Pitt with a Bachelor of Art degree majoring in History of Art and Architecture in 2013. Read more at artdaily.
Welcome back, Tyler!