Barbara McCloskey is in her second full year as chair of the department and is very excited by the new developments taking place in our program thanks to the extraordinary generosity of the administration and the Dietrich endowment fund.  She looks forward to working with her colleagues in the coming year to revamp our curriculum in light of the wonderful new opportunities these funds will allow us to extend to our students.  She also looks forward to the publication of her book, The Exile of George Grosz: Modernism, America, and the One World Order, which will be published by University of California Press in December 2014.  This fall she delivered two papers, the first at a conference on the subject of East German Art hosted at Iowa State University by our former alum, April Eisman, and the second in a seminar on the topic of art, war, and trauma at the German Studies Association meeting in Kansas City, Missouri.
Gretchen Bender Our undergraduate students have been particularly busy in the last year, engaging in exciting travel opportunities, independent research projects, teaching and research assistantships, designing and participating in service-learning programs, developing gallery exhibitions and serving in local arts organizations.  Recent majors have won awards from the University Honors College and the Dietrich School of Arts and Sciences to travel to Istanbul, New York, London, and Chicago to advance independent research projects.  Even more secured summer research funding to remain on campus to begin honors thesis projects. 
Students enrolled in Jennifer Josten's Art and Politics in Modern Latin America and Shirin Fozi's Medieval Treasuries travelled together to Detroit and Cleveland last fall to study objects relevant to their coursework, and students travelled to Florence, Italy with Frank Toker's seminar Florence Cathedral: Site and Insight over Spring Break.   
Our museum studies program continues to prosper.  The 2014 Milton Fine Museum Profession Fellows (Karen Lue, Grace Strong, and Matthew Sova) were partnered with Nicholas Chambers, Curator at the Andy Warhol Museum, Marilyn Russell, Curator of Education at the Carnegie Museum of Art and Janet McCall, Executive Director of the Society for Contemporary Craft.  Last fall, the Museum Studies Exhibition Seminar, led by the Warhol Museum's Nicholas Chambers, executed a fun and compelling exhibition on the work of Martin Creed.  The new minor in Museum Studies is drawing increasing enrollment, particularly from students in the Departments of History and Anthropology.
Three of our students graduated in April with the prestigious Bachelor of Philosophy Degree from the University Honors College for the successful completion of extensive thesis research.  Lauren Burgess, a joint Communications and HAA major devoted her study to Henri Matisse's Chapel in Vence, France; Grace Meloy a joint Architectural Studies Preservation track and Civil and Environmental Engineering major studied tourist sites and infrastructure at the center and periphery of Berlin, and Julia Warren, also a Preservation track major, developed an analysis of the High Line in Manhattan.  
Exciting service-learning projects have also extended the reach of our students in new directions.  Last spring, in partnership with the Pittsburgh Assistance Center for Educators and Students (PACES, https://www.pittsburghaces.org/programs.html), HAA majors Danny Augenbraun, Lauren Burgess, Cyrille Froncek, Grace Kelly, and Joanna Kemp taught local high school students about public art during their school-day activity period, and mentored them through the completion of their own works of art which were exhibited at our University Art Gallery in May.  The project received great press in the Summer edition of Pitt Magazine: http://www.zinio.com/reader.jsp?issue=416313687&o=ext.  Over the summer, Kaley Kilpatrick worked with Melissa Hiller at the American Jewish Museum of the JCC in Squirrel Hill to develop art conversation programs for local senior care facilities for patients suffering from Alzheimer's and dementia.   And this fall, three HAA majors, Kilpatrik, Alice Gallagher and Liyi Chen are part of a dynamic interdisciplinary team of faculty, graduate students and other undergraduates from Pitt's School of Education and Department of Psychology who are researching the response of school-age children to sites of traumatic memory.  Specifically, they are partnering with the U.S. Parks Service to study and enhance the educational experience of the Flight 93 Memorial site in Shanksville, Pennsylvania.   Later this year, they will be travelling to Ohio to work directly with elementary students who travel each year to see the Flight 93 site. 
To learn more about students featured in the 2014 HAAARCH!!! Showcase of Undergraduate Student Accomplishment, go to http://constellations.pitt.edu/HAAARCH2014.  We look forward to hosting another exciting HAAARCH!!! in March 2015.
Terry Smith led two workshops at Carleton University, and presented a keynote lecture at the National Gallery of Canada. Since 2000, US-based, Australian art historian Terry Smith has argued that artists, architects, curators and art theorists have been responding to the nature of contemporary reality in terms of its definitive quality, its differential contemporaneity. He discussed the key ideas underlying his widely read and often controversial books, including What is Contemporary Art? (University of Chicago Press, 2009), Contemporary Art: World Currents (Laurence King and Pearson/Prentice Hall, 2011), and Thinking Contemporary Curating (Independent Curators International, New York, 2012). See www.terryesmith.net/web/
This residency is sponsored by: Sotheby's, the Centre for Transnational Studies, Faculty of Arts and Social Sciences, Institute for Comparative Studies in Literature, Art, and Culture, Migration and Diaspora Studies, School for Studies in Art and Culture. For over a decade, US-based, Australian art historian Terry Smith has argued that artists, architects, curators and art theorists have been responding to the nature of contemporary reality in terms of its definitive quality, its differential contemporaneity. He discusses the key ideas underlying his widely read and often controversial books, including: What Is Contemporary Art? (2009), Contemporary Art: World Currents (2011) and Thinking Contemporary Curating (2012). Terry Smith presented "Contemporaneity and Contemporary Art" at the Aarhus Institute of Advanced Studies (AIAS), Aarhus University (2014)
Carrie Weaver begins her second year as a Postdoctoral Fellow of the Kenneth P. Dietrich School of Arts and Sciences. Her book, The Bioarchaeology of Classical Kamarina: Life and Death in Greek Sicily, has been accepted for publication by the University Press of Florida and will appear in September 2015. This year, she will turn her attention to a new project: the demographic reconstruction of an early Byzantine cemetery in Turkey.
Frank Toker taught an undergraduate seminar on Florence Cathedral and a lecture-course on the architecture and urbanism of Pittsburgh in Spring Term 2014  ; this Fall term he is teaching Introduction to Western Architecture, Early Renaissance, and Early American architecture. An off-shoot of the Florence seminar was his on-site visit with students to Florence over Spring Break, and an off-shoot of the American course is his fieldtrip to eight important early buildings (one a cast-iron bridge) near Pittsburgh, on October 26. The third of Frank's Florence Cathedral volumes is progressing well, and he will speak in Florence on 24 March 2015 on his findings of an undetected house-church under the Baptistery of S. Giovanni. On a personal note, Frank and Ellen welcomed grandchild number six, Mason Burack Toker, this past December.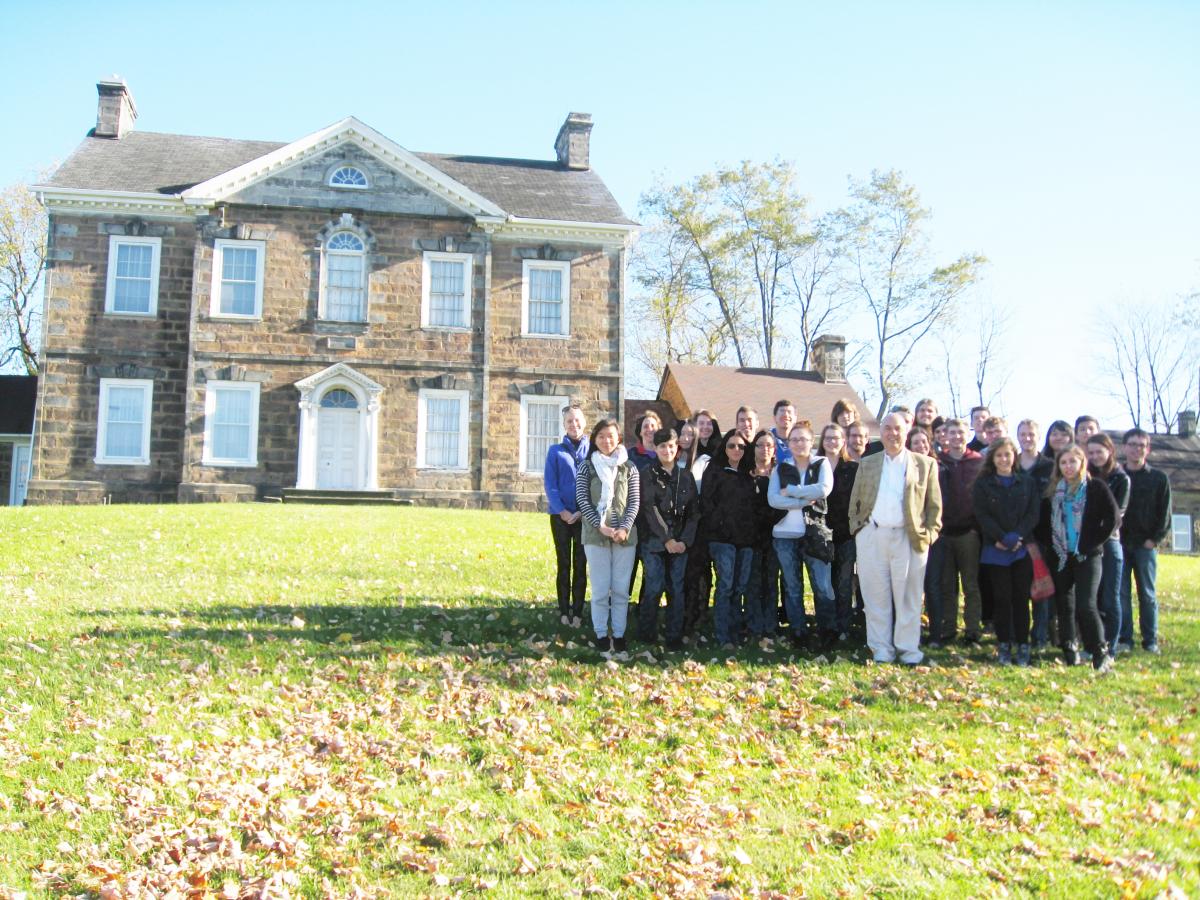 Image: Frank Toker on fieldtrip to see early American architecture south of Pittsburgh. October 26, 2014
Gao Minglu's exhibition, Long Scroll: Allegorization of the World opened at the Distance Gallery in Tianjin, China on Friday, September 12. This was its second reception, occurring two days after its first, which coincided with the opening day of the World Economic Forum, also known as the Davos Economic Forum, held at the Tianjin Museum of Art.  Featuring artists Li Shan, Xu Bing, Ren Jian, Deng Guoyuan, Cai Jin, Cui Xiuwen, and Li Zhanyang, the exhibition explores the myriad ways contemporary Chinese artists have incorporated the ancient Chinese form of the scroll into their contemporary art practices. Ranging in medium from sculpture to digital video and photography to ink painting, the exhibition highlights the ways in which the concept of the scroll has been appropriated and modified to address contemporary and often globally-ranging concerns such as urbanization, global conflict, and biogenetics. According to Professor Gao in the forward to the exhibition catalogue, "…the artists attempt to display the complexity and richness of the present world by making different kinds of virtual images and stories, in order to uncover the contradiction between the micro and macro world, and so as to express people's eagerness to understand the world as a unity." In this way, each work gives us a glimpse into the artists' worldview through allegory, perhaps the only viable method for expressing one's own understanding of our increasingly complex and ungraspable global condition. Professor Gao was accompanied to the opening reception by Lihui Dong, Madeline Eschenburg, and Ellen Larson, his three PhD students from the department of the History of Art and Architecture.