Nicholas Chambers (Milton Fine Curator of Art at The Andy Warhol Museum) joined the faculty this semester as an Adjunct Professor. He is leading the Museum Studies Unit in the development of a solo exhibition of work by Scottish born artist, Martin Creed, which will be presented at the University Art Gallery in November 2013.  At The Warhol, Nicholas is currently curating a survey exhibition of work by Japanese photographer Yasumasa Morimura.  Titled 'Yasumasa Morimura: Theater of the Self', the exhibition will open at The Warhol on 10/5/2013.
Melissa Eppihimer published an article on ancient Assyrian seals in the Journal of Near Eastern Studies in April 2013 and is awaiting the publication of an article on historical consciousness in Mesopotamian art in an edited volume (Critical Approaches to Ancient Near Eastern Art).  She has otherwise been keeping busy with a study of the collecting and interpreting of ancient Near Eastern seals in Europe during the 17th and 18th centuries. She presented her research on this historiographical topic in talks at the University of Pennsylvania and at Columbia University last fall. This fall, she is excited to be teaching a course at Pitt that brings together the ancient Near East, the holy sites of Islam, and modern Saudi Arabia in conjunction with the Roads of Arabia exhibition at the Carnegie Museum of Natural History.  The course is a unique and timely contribution to the department's new Museum Studies minor.
Ann Sutherland Harris has kept busy since retiring. She gave papers this year at conferences in Mendrisio, Cambridge [UK] and Rome.  The first was about the architect G. B.Mola and his son, the painter P. F. Mola (1612-1665), both from  Coldrerio (also near Lugano, Switzerland).  The second conference was linked to the exhibition, Houghton Revisited, which brought back to Houghton Hall in Norfolk seventy important Renaissance and seventeenth-century paintings from the Hermitage, St. Petersburg, formerly in the collection of Sir Robert Walpole, who built the house to display them. His sons sold them to Catherine the Great in 1799.  The chance to see them in their original installation in the house made for a major exhibition attracting over 100,000 visitors, and inspiring new research on the collection.  The final conference celebrates the 400th anniversary of the death of the painter Carlo Maratta (1625-1713).  Professor Harris also published a drawing by Nicolas Poussin, in The Burlington Magazine (March 2013) and another in Master Drawings  2013, no. 1).
Jennifer Josten was a postdoctoral fellow at the Getty Research Institute in Los Angeles in 2012–13, where she advanced work on her book manuscript on Mathias Goeritz and mid-twentieth-century art and architecture in Mexico. In February 2013, she received the biennial dissertation prize of the Association for Latin American Art. With support from Pitt's Center for Latin American Studies, she delivered papers at the annual conference of the Latin American Studies Association in Washington, D.C., and "Transatlantic Encounters: Avant-garde Discourses in Spain and Latin America," an international conference held at the Museo Nacional Centro de Arte Reina Sofía in Madrid.
This past year has been a very busy one for Katheryn Linduff—she was Acting Chair through December 2013, followed by a UCIS Research Leave of Absence for the period from January through August and a sabbatical from September through December. She was awarded the Inaugural Sheth Award for Excellence in International Education given by the University Center for International Studies at the University of Pittsburgh.  During the year she spoke at international symposia (China, Jordan, Japan, and Russia) and published several articles including: "Imperial Expansion in the Late Warring States and Han Dynasty Periods: A Case Study from South Central Inner Mongolia," with Gregory Indrisano, in Archaeological Histories and Anthropological Interpretations of Imperialism, Gregory E. Areshian (ed.), Cotson Institute of Archaeology, UCLA Press, pp. 204-242; "Gender Archaeology in East Asia and Eurasia," with Karen S. Rubinson, in A Companion to Gender Prehistory, Diane Bolger (ed.), London: Wiley-Blackwell, 2013, pp. 351-371; "Ritualization of Weapons in a Contact Zone: Between the Past and the Present, with Yang Jianhua, in the Archaeology of Power and Politics in Eurasia: Regimes and Revolutions, Charles W. Hartley, G. Bike Yazicioglu, and Adam T. Smith, Cambridge: Cambridge University Press, pp. 173-187).  During her leave she is completing work on a new book, Artifacts in Action: Markers of Life and Death at the Intersection of China and Eurasia, with Cao Wei and Sun Yan.
Barbara McCloskey completed her first term as chair of the Department of History of Art and Architecture last spring.  She is looking forward to her work this year as the department furthers its efforts to expand experiential learning for our students through the resources of the University Art Gallery, the Visual Media Workshop, and the academic programming of the Constellations.   Professor McCloskey's book, George Grosz in Exile: Art and the One World Order in World War II and the Cold War, has been accepted for publication by University of California Press and will appear in summer 2014.
Kirk Savage has been on the Civil War circuit this year, giving talks at a major conference on the "future of Civil War history" in Gettysburg in March and at a symposium at the National Gallery in Washington, D.C. in November.  His current project in that vein deals with Alexander Gardner's battlefield photography, the problem of the unknown dead, and the beginnings of Civil War commemoration. In spring 2013 he received the Chancellor's Distinguished Research Award.
Terry Smith: Thinking Contemporary Curating, published in 2012 by Independent Curators International, New York, is now in its second edition. Interested audiences have attended my public discussions with contemporary curators, including Carolyn Christov-Bakargiev, Jens Hoffmann, Mami Kataoka, and Paul O'Neill, in various cities.  On May 2, 2013, I gave the keynote talk "Some of the Times Sought, Found, and Given by Contemporary Art," at the Museum of Modern Art, New York, conference Art at Large: Art Making in the Long View conference, convened by Pablo Helguera.  I made two trips to Europe during the summer and early fall. One highlight was the publication of a collection of my essays and lectures that had been translated into Slovenian, launched on August 22 at the Metelkova Contemporary Art branch of the Moderna Galerij, Ljubljana. One essay was the text of a lecture I had given there in 2010 (see photo).  Another highlight was giving the concluding keynote at the conference "Reimagining Modernism, Mapping the Contemporary," Churchill College, Cambridge University, UK, on September 24. Image: Terry Smith speaking in the Moderna Galerij, Ljubljana, Slovenia, 2010. Photograph Dejan Habich.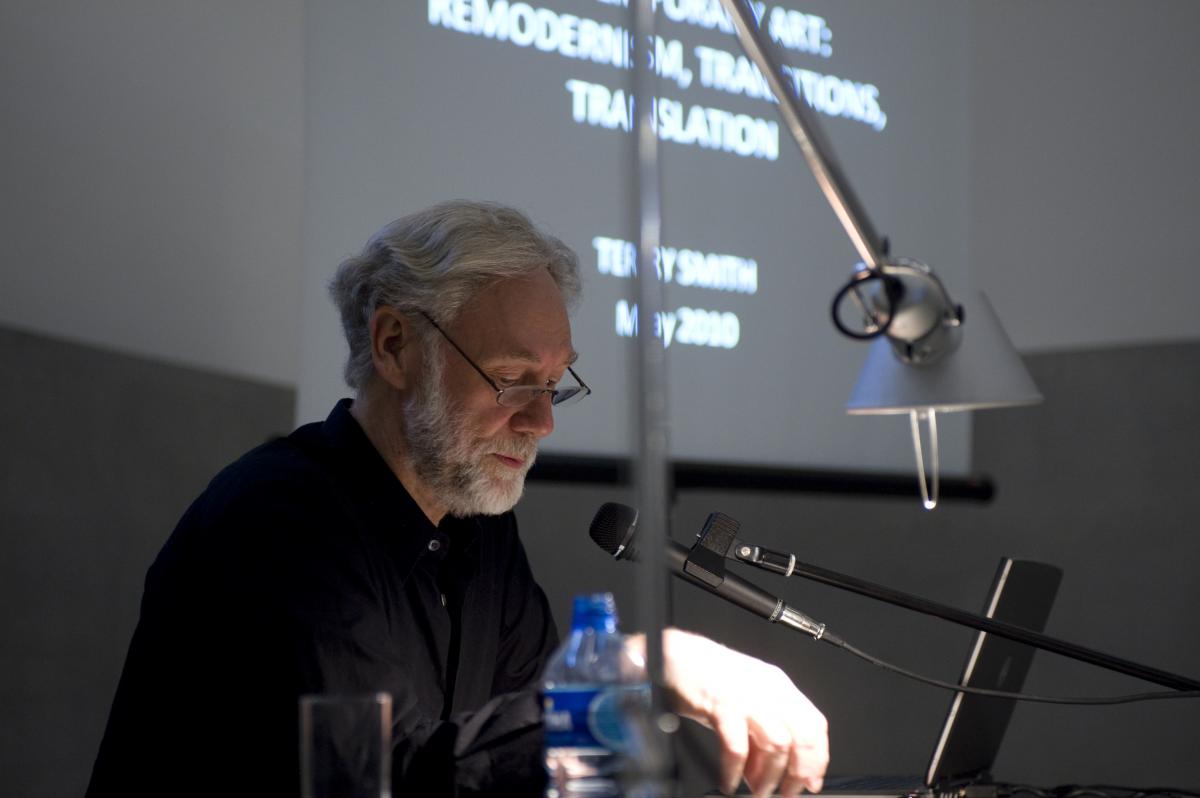 Alison Stones has enjoyed a busy and profitable first year of retirement.  In summer 2013 she guest curated an exhibition and organized a conference at the Archives Départementales de la Dordogne on the manuscripts owned by the Cistercian Abbey of Cadouin.  They are now housed in the Archives Départementales and the Archives Diocésaines in Périgueux and the Bibliothèque nationale de France in Paris.  The first two volumes of her book on Illuminated Manuscripts Made in France appeared in June (Harvey Miller and Brepols, London and Turnhout).  She hopes the other two volumes will appear before Christmas.  She gave lectures and conference papers at the Universities of Lille, Louvain-la-Neuve, Minneapolis and Montreal. Five articles appeared in 2013: 'The Miniatures in the Vernon Manuscript,' in The Making of the Vernon Manuscript: The Production and Contexts of Oxford, Bodleian Library, MS Eng. poet. a. 1, ed. W. Scase (Turnhout: Brepols), 149-169; 'Illuminated Manuscripts of Popes Clement V and John XXII: Toulouse or Avignon?' Rivista di Storia della Miniatura, 17, 2013, 83-94; 'Formulas and Divergencies in the Illustrations of the Psalter, Nancy, Musée Archéologique MS 249,' in La Formule au Moyen Age (Actes du colloque Nancy novembre 2010), ed. E. Louviot, ARTeM series (Turnhout: Brepols), 315-331; 'Le Sacré et le Profane dans quelques manuscrits français du XIIIe et début XIVe siècles,' in Thèmes religieux et thèmes profanes dans l'image médiévale : transferts, emprunts, oppositions (Actes du Colloque du RILMA, Institut Universitaire de France, Paris, INHA, mai 2011) (Répertoire iconographique de la littérature du moyen âge, Les Études du RILMA I), ed. C. Heck (Turnhout: Brepols), 195-218; 'A Note on the Beard-Pulling Motif: A Meeting between East and West, or a Northern Import ?' Festschrift for James Graham-Campbell, ed. Leslie Webster and Andrew Reed (Leiden: Brill). 877-891.
Frank Toker writes: In the past academic year I taught Intro to Western Architecture, Early American, Early Renaissance architecture, medieval architecture, and the built environment of Pittsburgh. In March, Brepols in Belgium brought out my Archaeological Campaigns beneath the Duomo and Baptistery of Florence, 1895-1980, after which I returned to work on the two successor volumes (and spoke about them at the 18 September Colloquium). In the department of things unexpected, the Czech art historian Peter Kováč included my essay, "Arnolfo di Cambio and the Beginnings of Artistic Identity in Italy" in his monumental book,  Zrození génia. Giovanni Pisano a Toskánsko mezi gotikou a renesancí (Birth of genius. Giovanni Pisano and Tuscany between Gothic and Renaissance). My essay, translated as "Arnolfo di Cambio a Pocatky umelecke identity," appears alongside work by scholars who have been laboring in the field of Italian Gothic sculpture for half a century, like Herbert von Einem and the famed sculptor Henry Moore. In things personal, our fifth grandchild, Dexter Elijah Summers, was born in June, and with some good fortune our sixth arrives around Thanksgiving. Image: Franklin Toker joins the Pittsburgh Pirates.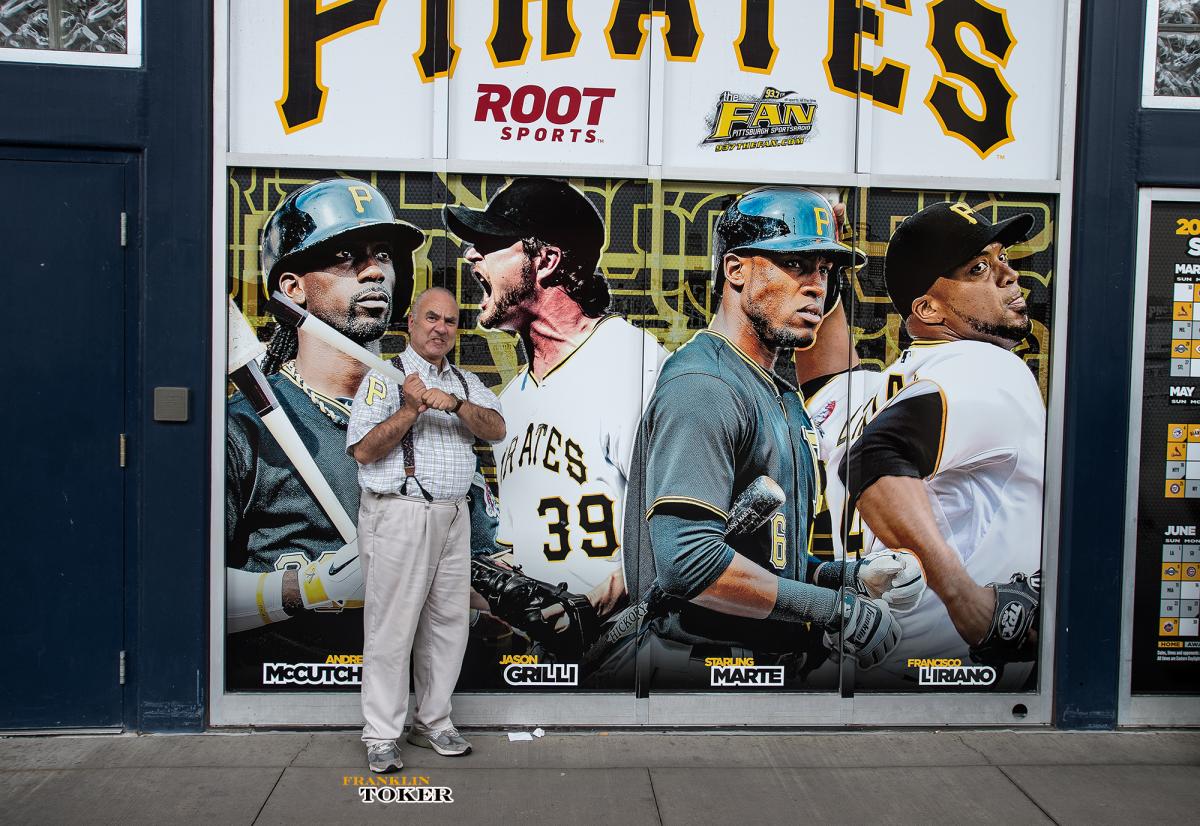 A recent graduate of the University of Virginia, Carrie Weaver has started her first year as a Postdoctoral Fellow of the Kenneth P. Dietrich School of Arts and Sciences. Her academic interests lie broadly in the art and archaeology of the ancient Mediterranean world, and specifically in funerary art and architecture, burial practices and the analysis of human bones. During her time at Pitt, Carrie will complete her book The Bioarchaeology of Classical Kamarina: Life and Death in Greek Sicily, ca. 5th to 3rd c. BCE, which is scheduled for publication in 2015. Image: Carrie analyzing a human skeleton (ca. 7th c. CE) from southwestern Turkey.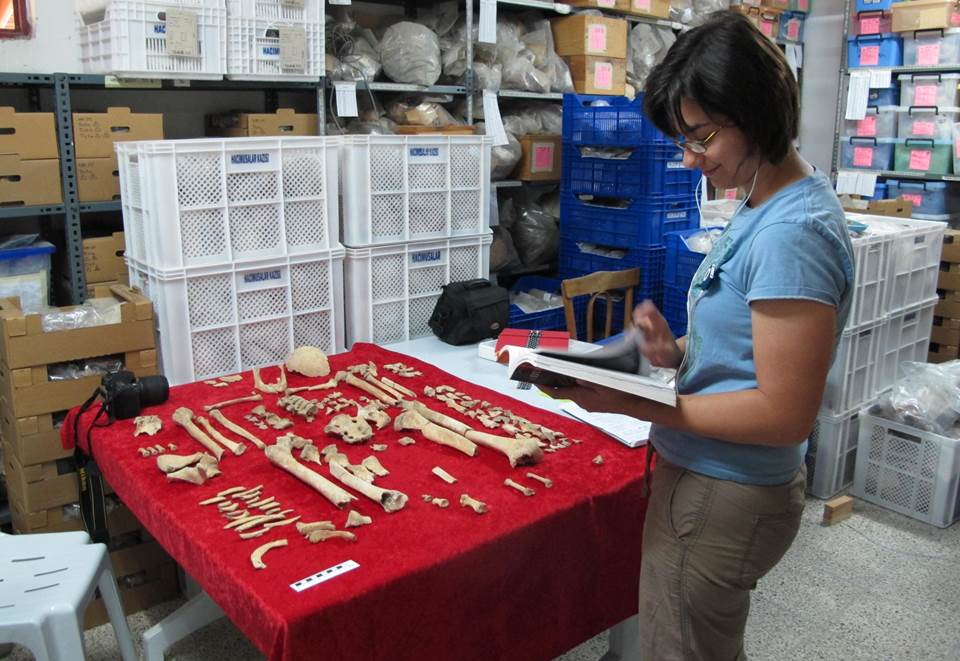 John Williams has a documentary film about the eighth-century Spanish monk Beatus and the twenty-nine surviving copies of his Commentary on the Apocalypse in production. Williams is the narrator. Three campaigns in northern Spain this year wrap up the filming. Editing will be done by next summer. Although independent, it is planned in conjunction with an exhibition of the Commentaries in the Morgan Library of NYC, for which he is the curator and catalogue author. It opens September, 2014.