The Marstine Prize for Outstanding Work in Public Humanites recognizes superior achievement in curatorial, publishing, and/or museum studies work dedicated to inclusiveness and/or community outreach.
This year the committee voted to split the prize between two PhD students, due to the strength of each project.
Marisol Villela Balderrama:
"Disrespecting the Border" was a community-based mural created in October 2019 with the aim of reflecting and taking a stand against the increasingly violent anti-immigration policies and rhetoric under the Trump administration. This public art project organized by an interdisciplinary group activates dialogue about the Latinx presence in Pittsburgh by using a wall as an element for connection rather than division. The mural reflects trajectories of migration represented in vehicles made with everyday life elements. This artwork, an 8 by 20 feet acrylic painting on fiberglass panels, was created collectively in a three-day community workshop led by Artist Gil Rocha, from border-town Laredo, Texas. Participants' ages ranged from 7 to 50 years old; they described their origins as Chilean, Colombian, Salvadorian, Guatemalan-American, Mexican, Mexican American, and American. The project's next phase is to mount the mural permanently in a public wall to make visible and dignify the Latinx presence in Pittsburgh.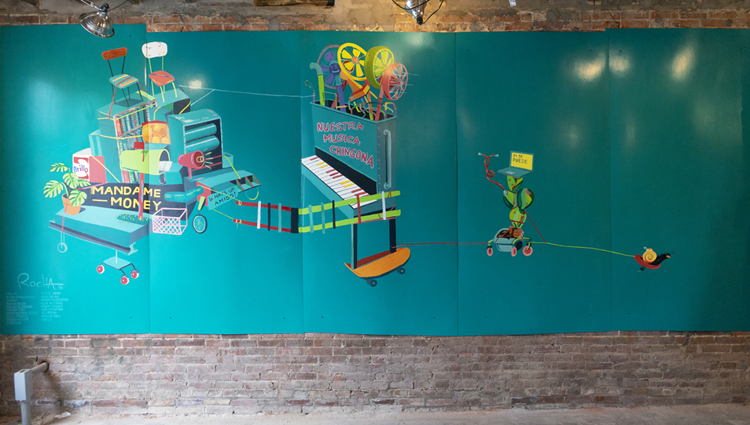 Ellen Larson:
Under Ellen Larson's curatorial direction, Materializing Memory: Contemporary Video Art from China was staged at the University Art Gallery from September 5 – October 11, 2019. This exhibition was the result of interdisciplinary collaboration between departments and organizations from across the University and greater Pittsburgh community. Materializing Memory debuted a collection of videos created by some of the most innovative and experimental young artists working both within China's geographic borders and beyond. Participating artists investigate complicated issues of identity and belonging as fluid and itinerant, rather than reductively domestic or diasporic—challenging, contradicting, and remembering during a time when progress accelerates the urge to forget. The exhibition and robust schedule of associated programs and events, which included meaningful engagement with area high schools, and universities, along with gallery tours offered in Mandarin Chinese and Spanish, provided the public with a rare opportunity to gain critical insights into contemporary Chinese society.