Celebrate Light Up! with the University Art Gallery and the Office of Public Art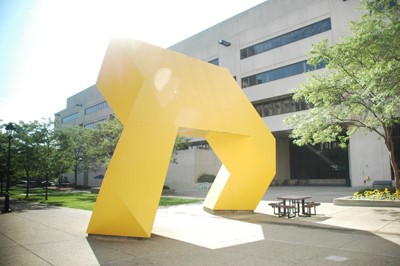 Photo courtesy of the Office of Public Art
The Office of Public Art and the University Art Gallery invite you to join in the celebration of Tony Smith's Light Up 40th anniversary on Thursday, May 15th, from Noon-4pm, on the University of Pittsburgh Oakland campus.
On May 15th 1974, Westinghouse Electric Corporation inaugurated a large sculpture commissioned to modern-minimalist artist Tony Smith, placed outside of the Gateway Center in downtown Pittsburgh. During the renovations of the plaza, the piece was put in storage and eventually donated to the University of Pittsburgh, where it found its new location in 1989. In 1998, the sculpture was borrowed by the Museum of Modern Art in New York City for Smith's retrospective exhibition, and displayed in front of Mies van der Rohe's Seagram building. 
Two free guided tours around the sculpture will be offered, at Noon and at 3pm. Tour leaders will provide more information about the artist and the sculpture. Join a tour, or drop by for a piece of cake and learn more about this important modern piece of public art. 
Meeting location will be around the sculpture, in the courtyard between Posvar Hall and the Hillman Library, across from Schenley Plaza. Access through Posvar Hall or from Schenley Drive. In case of rain, the event will take place on the first floor inside Posvar Hall.
For more information, contact uag@pitt.edu.