"Where Are the Mothers? The Disappearance of Mother Images in Mid-19th Century Jokunsho Illustrations"
Jung Hui Kim, PhD Candidate, History of Art and Architecture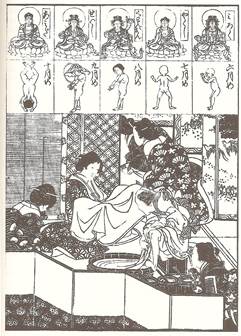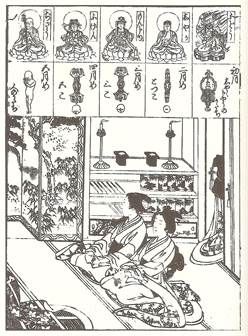 Birth scene from the 1847 edition of A Record of Treasure for Women
This paper compares the two birth scenes in A Compendium of Treasures for Women (Onna chōhōki) respectively printed in 1692 and 1847. Both cases capture the moment after delivery, but there is a marked difference in the representation of figures. The 1692 edition shows the mother's conspicuous presence in a traditional dress for post-partum recovery. In the 1847 version, on the other hand, the mother is entirely eliminated from the scene and the ritual of bathing the newborn is highlighted. To elucidate the reason for this change, I scrutinize the socio-political context in which women's birthing bodies were subject to state control as well as the emergence of neo-Shinto Nativism that promoted social recognition of children as invaluable national assets. Finally, this paper interprets the disappearance of mother images as reflecting the historical transition toward the exclusion of women's role as decision-makers in all matters regarding pregnancy and childbirth.