"Shaping Identity: The Power and Symbolism of the Human Skull"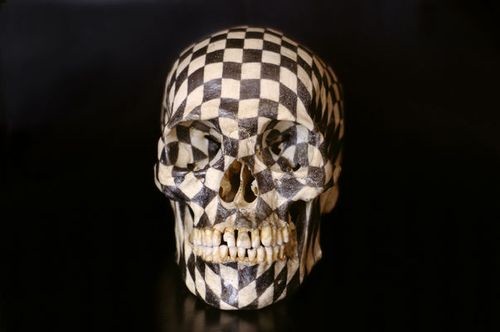 Gabriel Orozco, Black Kites, 1997. Graphite on skull. 8.5 x 5 x 6.25" (21.6 x 12.7 x 15.9 cm).
Philadelphia Museum of Art: Gift (by exchange) of Mr. and Mrs. James P. Magill, 1997.
Human skulls are deeply symbolic objects that often evoke strong emotional responses ranging from terror to delight. As such, skulls have been used cross-culturally to shape the identities of individuals and groups. This interdisciplinary colloquium, sponsored by the Identity Constellation, explores some of the ways in which skulls have been used to form or affirm identity. The colloquium begins with a lightning session featuring six participants: Drew Armstrong (HAA), Shirin Fozi (HAA), Jennifer Josten (HAA), Margaret Judd (Anthropology), Kirk Savage (HAA) and Jeffrey Schwartz (Anthropology). Each participant will offer a five minute presentation on a specific skull, which will include a description of the skull's context as well as its significance. The lightning session will be followed by a lengthy discussion period that will ideally address questions, concepts and issues raised during the presentations.