"Titian's Painted Stones: Slate, Oil and the Transubstantiation of Painting"
Dr. Christopher J. Nygren, Mellon Post-Doctoral Teaching Fellow, University of Pennsylvania
Titian's Ecce Homo and Mater Dolorosa with Open Hand (both Madrid, Museo del Prado) stand out for a number of reasons. Firstly, they were not commissioned but were done as gifts, so they reflect Titian's artistic volition rather than the will of a patron. Secondly, the materials that Titian chose to use demand attention: the Ecce Homo is painted on slate while the Mater dolorosa is painted on a slab of marble. Depending on how scholars account for problems of attribution, workshop participation, and works that have not survived, estimates of Titian's artistic production range from about 400 works on the conservative side to more than 600. Despite these large numbers (not matched by other masters of his period like Raphael and Michelangelo), the Ecce Homo and Mater Dolorosa are the only paintings that Titian ever painted on non-traditional supports. Their outlier status, then, is clear and should make them of interest to scholars. Yet modern scholarship has essentially ignored Titian's selection of artistic materials. This paper will examine Titian's redeployment of the novel technique of stone painting by focusing on how the painter sought to heighten the affective immediacy of Christian devotion by drawing on the complex associations between the spiritual content of his images and the physical characteristics of their material substrates.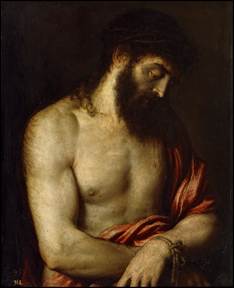 Titian. Ecce Homo, 1547. Oil on slate. Madrid, Museo del Prado.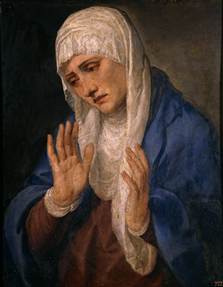 Titian. Mater Dolorosa, ca. 1554. Oil on marble. Madrid, Museo del Prado.