Capturing the Street: Garry Winogrand and Ned Bosnick
21 Feb 2013 - 22 Mar2013 University Art Gallery
Curated by Isabelle Chartier, this exhibition exploreed two views of street photography through photographs from the University Art Gallery's permanent collection. Garry Winogrand (1928-1984) and Ned Bosnick (1937-2011) were two American photographers who turned the fleeting moments of everyday life into pictures. Yet, their approaches to street photography differed slightly. Winogrand surprised people on the streets by unexpectedly taking their photographs. Bosnick, however, worked surreptitiously, keeping a physical distance from his subjects, who were unaware that they were being caught on film. Both photographers were witty observers of urban spontaneity, and their prints provoke us to question the way we consider ordinary aspects of life. Garry Winogrand is viewed as one of the great American photographers of his generation. This exhibit featured 15 photographs from the 1982 series Women are better than men. Not only have they survived but they do prevail. Ned Bosnick grew up a few miles east of Pittsburgh and traveled intensively to Europe. The 39 pictures presented in this exhibition come from the series The Talk of Paris, created during his various stays in the French capital between 1983 and 1995.
---

Studio Arts Exhibition: Summer 2012 Creative Projects
23 Jan 2013 - 15 Feb 2013 University Art Gallery
This exhibition featured works created by Studio Arts majors who participated in Summer 2012 Research Opportunities (Julia Betts and Christopher Cassady - Dietrich School Undergraduate Research Awards and Gianna Paniagua - Brackenridge Research Fellowship through the University Honors College) as well as the Summer 2012 Wyoming Field Study (Emily Golden, Jay Grassel, Gianna Paniagua, and Abby Ryder). Works in painting, drawing, sculpture, printmaking, photography, and mixed media were exhibited.
The exhibition waspresented by the Department of Studio Arts with the University Honors College and the Dietrich School's Office of Undergraduate Research, Scholarship, and Creative Activity. For additional information, please view the exhibition flyer.
---
Face Value: (De)constructing Identity in Portraiture
10 Sept 2012 - 14 Oct 2012 University Art Gallery
Face Value was exhibit curated by the University of Pittsburgh Museum Studies Exhibition Seminar class, taught by Janet McCall, executive director of the Society of Contemporary Craft. Portraits have historically been used as a tool to display oneself. Selected pieces from the University Art Gallery's collection illustrate the construction of identity in the visual arts through gender, social status, physical appearance, family legacy and more. The works reveal how the introduction of new artists, mediums, and technology pushed portraiture to evolve new forms of expression. View the Facebook page and Blog for more information.
Read the article in Teaching Times about the iPads used in the exhibition
---
Faces to Names: 225 Years of Pitt Chancellors' Portraits (1787-2012)
10 Sept 2012 - 14 Oct 2012 University Art Gallery
The UAG celebrated Pitt's 225th Anniversary with an exhibition of official portraits of the University's Chancellors. Featuring works by Gilbert Stuart, Rembrandt Peale, Elizabeth Shoumatoff, Andrey Avinoff, Leopold Seyffert - and many more, the exhibition puts faces to the names we encounter everyday on campus: Bruce Hall, Fitzgerald Field House, Litchfield Towers. Read more.
---
2012 Studio Arts Student Exhibition
4 Apr 2012 - 28 Apr 2012 University Art Gallery
The creative work of graduating seniors is featured in the Studio Arts Student Exhibition held in the University Art Gallery, Frick Fine Arts Building. The works of the seniors are complemented by exceptional works, by majors and non-majors, from the range of Studio Arts courses.
---
Studio Arts Wyoming Field Study Exhibition
11 Jan 2012 - 3 Feb 2012 University Art Gallery
This exhibition will feature the work of the four Studio Arts majors (Ashley Bowen, Nicole Hall, Josephine Norton, and Tyler Shine) who participated in the Studio Arts Wyoming Field Study in Summer 2011, offered through the University Honors College on the Spring Creek Preserve in Rock River, Wyoming.
---
The Imprint of War: Responses in Print
31 Oct 2011 - 5 Dec 2011 University Art Gallery
An exhibition curated by the fall 2011 Museum Studies Exhibition Seminar taught by Janet McCall, the Director of the Society for Contemporary Craft.
The Imprint of War: Responses in Print, featured three distinct print artists, working in different styles of printmaking from woodblock to intaglio, whose works are the reactions to wars, both historical and contemporary. Showing the intimate, miniature prints by Jacques Callot, the 8.5x11'' images by Nicolas Naughton, and the large, confrontational 4x8' works of Sandow Birk, this exhibition focused on the repetitions of history: unending wars and continual responses.
Click here to see images of the exhibition
Visit the exhibition website and blog
---
On a Lucky Day a Surprising Balance of Forms and Spaces Will Appear
8 Sept 2011 - 21 Oct 2011 University Art Gallery
An exhibition of work by faculty of the Department of Studio Arts. Participating Faculty: Kenneth Batista, Jeremy Boyle, JoAnna Commandaros, Anna Divinsky, Paul Glabicki, Stephen Hankin, Aaron Henderson, Delanie Jenkins, William Earl Kofmehl III, Michael Morrill, Julie Stunden, Lenore Thomas, Scott Turri, and Barbara Weissberger.
Conversations with Artists:
Wednesday, September 21, noon, with Paul Glabicki and Scott Turri
Wednesday, October 5, noon, with Delanie Jenkins and Barbara Weissberger
Wednesday, October 12, noon, with Aaron Henderson and Michael Morrill
---
MIND SPACE
14 Feb 2011

-

17 Mar 2011
University Art Gallery
MIND SPACE, an exhibition curated by Gao Minglu features the work of artists Zhu Jinshi, Zhang Yu, Lei Hong and He Xiangyu at the University of Pittsburgh Art Gallery. The exhibition explores MAXIMALISM, the philosophical core of Chinese abstract art and a concept that places emphasis on the spiritual experience of the artist in the process of creation. Maximalism's primary objective is to question and overthrow assumptions about the meaning of art.
In Maximalist theory, the meaning of a painting is not expressed by its surface or subject matter and a painting is not considered a unique and privileged product of human culture containing commonly held values of virtue and creativity. According to Maximalists, the meaning of art goes beyond language (yan bu jin yi) and comes from a dialogue between the artist and the material object. It is a response to the rapidly changingmaterial world.
While the work in the exhibition is similar in appearance to modern or conceptual art, it has a different theoretical foundation. Most Maximalist artists consider their work to be incomplete and fragmented records of daily meditation. They do not adhere to compositional principles or ideas and their art is natural, repetitious and fragmentary. The work functions as what is often called aliushui zhangin Chinese, literally, "an account book of streaming water," which means an everyday record of something that is extremely unimportant, micro-trivial and fragmented from daily life.
This exhibition was first presented at Contrasts Gallery in Shanghai in the summer of 2010, and will travel to Dallas, New York and Los Angeles, introducing the USA to a new realm of art and expression.
Click here to see images of the exhibition
---
SLAG: What's Left After Industry?
02 Nov 2010

-

29 Nov 2010
University Art Gallery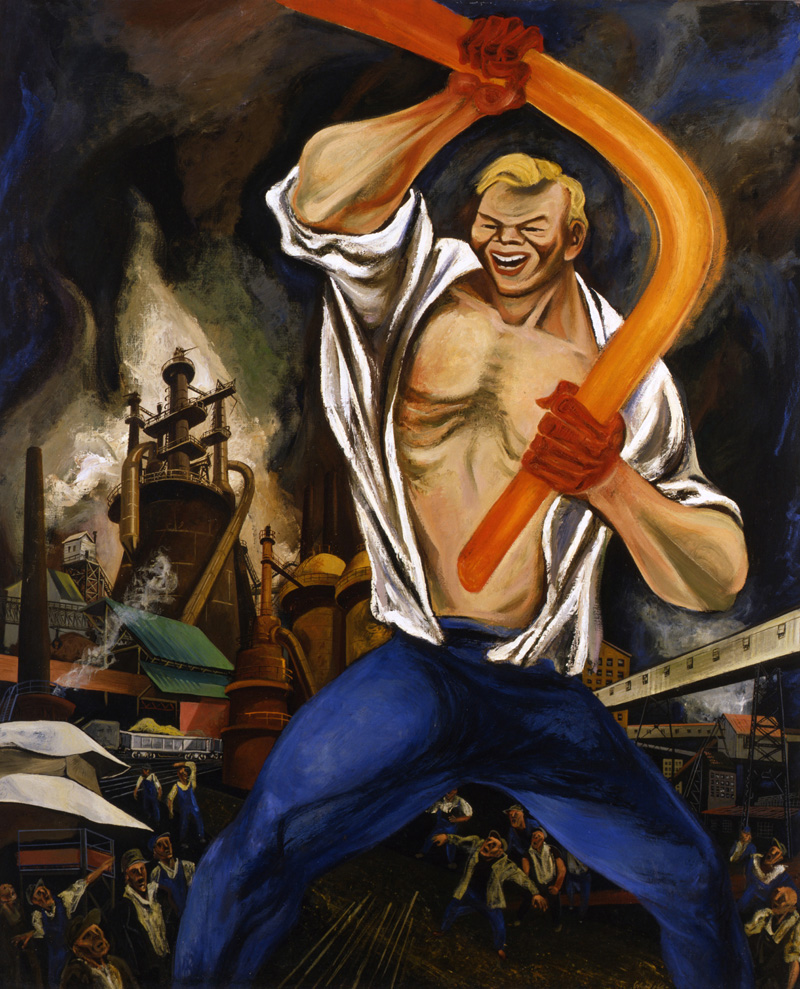 Pittsburgh, Pennsylvania's reformation from the manufacturing metropolis of Steel City to the green, cultural center of America's most livable city has not gone unnoticed. What forces have worked to cause this change in the city landscape? The transcending image of the industrial progress of southwestern Pennsylvania lives on in the University's Gimbel Collection, a group of paintings originally commissioned by the department store in 1946. Photographs by the Pittsburgh native Mark Perrott document the dismemberment of the Eliza Furnace, which once stood in the South Side of Pittsburgh. Finally, local artists share their contemporaneous perceptions of Pittsburgh in their artwork. This exhibition represents the city in three stages: the industrial construction, encapsulated by the Gimbel Collection, purifying deconstruction, captured in the Eliza photographs, and the retrofitting renewal, realized in the student artwork, illuminates the transitional narrative of the city of Pittsburgh since the industrial revolution.
---
The Lives They Left Behind: The Willard Suitcase Exhibition
02 Sep 2010

-

23 Sep 2010
University Art Gallery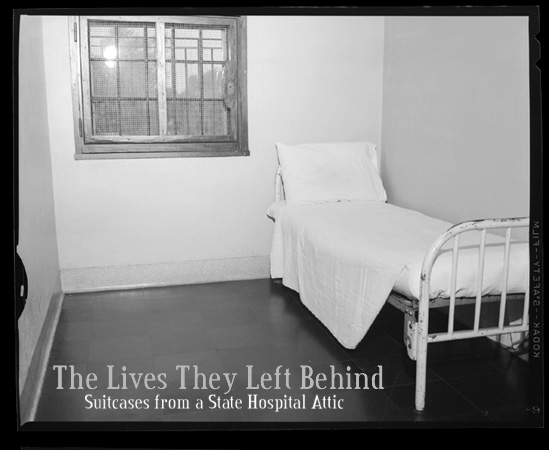 When Willard Psychiatric Center in New York's Finger Lakes closed in 1995, workers discovered hundreds of suitcases in the attic of an abandoned building. Many of them appeared untouched since their owners packed them decades earlier before entering the institution.
The suitcases and their contents bear witness to the rich, complex lives their owners lived prior to being committed to Willard. They speak about aspirations, accomplishments, community connections, but also about loss and isolation. From the clothing and personal objects left behind, we can gain some understanding of who these people were before they disappeared behind hospital walls. We can picture their jobs and careers, see them driving cars, playing sports, studying, writing, and traveling the world. We can imagine their families and friends. But we can also see their lives coming apart due to unemployment, the death of a loved one, loneliness, poverty, or some other catastrophic event.
The suitcases and the life stories of the people who owned them raise questions that are difficult to confront. Why were these people committed to this institution, and why did so many stay for so long? How were they treated? What was it like to spend years in a mental institution, shut away from a society that wanted to distance itself from people it considered insane? Why did most of these suitcase owners live out their days at Willard? What about their friends and families? Are the circumstances today any better than they were for psychiatric patients during the first half of the 20th century?