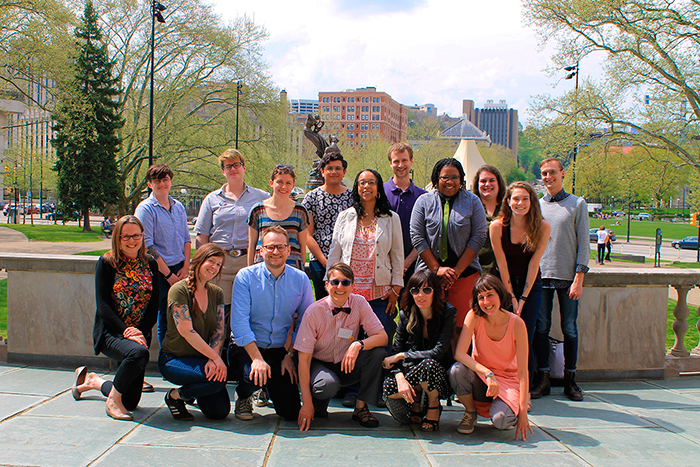 Alex J Taylor (co-leader) is Assistant Professor and Academic Curator in History of Art and Architecture. His first book Perils of the Studio (2007) explored the gendering of the artist's studio in Australian art. In Fall 2017, Alex taught a graduate seminar on Queer Modernisms, and is currently working with Museum Studies undergraduates for a student-curated exhibition on gender myths for the University Art Gallery, opening in Fall 2018.
Kate Joranson (co-leader) is the Head Librarian at the Frick Fine Arts Library, where she cultivates engagement with visual arts collections. In her expanded practice as an artist and a librarian, she explores creative modes of discovery through collaborative projects such as What does it mean to be curious? and I'm wondering if you can help me with something? She is interested in the intersection of art-making and the gendered labor of teaching and parenting.
Julie Beaulieu is a Lecturer for the Gender, Sexuality, and Women's Studies Program. She received her PhD in Literature with a certificate in GSWS from the University of Pittsburgh. Her research and teaching interests include the history of sexuality, global LGBTQ studies, transgender studies, eighteenth-century British literature, queer theory, feminist theory, and affect theory. She is currently working on her first book manuscript, entitled, Obsessive Love: A Queer History.
Lisa D. Brush is queer feminist Professor of Sociology. Brush's books, Gender and Governance (2003) and Poverty, Battered Women, and Work in U.S. Public Policy (2011), are about gender, the state, work, welfare, and partner-perpetrated violence against women. Current collaborations investigate primary prevention of violence and abuse by engaging high school and middle school boys in coached athletic programs in transforming gender.
Courtney Colligan is a second-year PhD student in Theatre and Performance Studies. Her research areas include contemporary productions of Shakespeare, cross-gender performance, Early Modern race studies, postcolonial theory, queer theory, and museum studies. Courtney's research investigates "atypical" casting and embodied performance as they illuminate historiographical narratives in Early Modern England.
Alana Fields is a PhD student in the Department of Sociology. Her research focuses on the influence of racialized gender constructions on interpersonal violence through the confinement and control of bodies, labor and resistance movements, and methods of intervention and transformative justice.
Julian Gill-Peterson is Assistant Professor of English. Their book, Histories of the Transgender Child, will be published by the University of Minnesota Press in Fall 2018. Their new project, Gender Underground: A History of Trans DIY, reframes transgender history through the everyday expert domain of trans do-it-yourself knowledge and practice.
David Givens is a PhD Candidate in the Department of Religious Studies, and the Director of the HIV Prevention and Care Project in GSPH. His research aims to support LGBTQ and other marginalized communities in public health planning, resiliency, and stigma reduction. His dissertation highlights new narratives LGBTQ communities are creating around saints online, using rhetorical and queer theory to examine these discourses' diverse motivations and implications.
S.E. "Shack" Hackney is a librarian and PhD student in the School of Computing and Information. Their research looks at the documentation practices of online communities, and how identity, ideology, and the body get represented through the governance of digital spaces. These interests have manifest in projects dealing with such topics as UFO abduction stories, emojis, and the history of library classification practice.
Brittney Knotts is a first year PhD candidate in Critical and Cultural Studies in the Department of English. Her research focuses on representations of girlhood in popular culture, including television, music, and social media. She is interested in the intersections of girlhood, sexuality, race, and creative agency. In addition, from a more ethnographic perspective, she aims to consider how adolescent girls are making meaning of these media texts.
Rachel Kranson is an assistant professor of Religious Studies. She is the author of Ambivalent Embrace: Jewish Upward Mobility in Postwar America (2017) and a co-editor of A Jewish Feminine Mystique?: Jewish Women in Postwar America (2010). Her current research focuses on American Jewish engagement in debates over reproductive rights, and she teaches courses on the intertwined histories of religion and sexuality.
Paula Kupfer is a PhD student in History of Art and Architecture, specializing in the history of modern art and photography in Latin America. Her research areas include exile and displacement, postcoloniality, and feminism. She wrote her MA thesis at Hunter College on the exiled German photographer Gertrudes Altschul. Previously, Kupfer worked as managing editor of Aperture magazine and as a freelance editor and writer.
Nick Marsellas is a PhD student in Rhetoric and Composition in the Department of English. His work interrogates ethical dilemmas and opportunities that arise from teaching queer topics in the undergraduate writing classroom. He is also interested in the alt-right's mobilization of certain ethical principles especially in the context of classroom grievances.
Jennifer Needham is an archivist for the University Library System's Archives & Special Collections. Her work involves working with faculty to introduce undergraduate students to primary sources, especially those that document gender, sexuality, and women's history, including alternative and underground press and pop culture materials. She is interested in identifying where silences exist in collections and acquiring materials to meet those needs.
Shannon Reed is a Visiting Lecturer in the Department of English, teaching in the Composition and Creative Writing programs. She is frequent contributor to The New Yorker's "Shouts and Murmurs" and "Daily Shouts" columns, as well as to McSweeney's Internet Tendency. Before joining the faculty at Pitt as a Visiting Lecturer, she taught in the New York City public school system. She is at work on her first novel.
Michele Reid-Vazquez specializes in the African Diaspora in Latin America and Afro-Latinos in the United States. She published The Year of the Lash: Free People of Color in Cuba and the Nineteenth-Century Atlantic World (2011), and is completing her second monograph on Caribbean black mobility and freedom in the age of revolution. Her current project examines issues of race, gender and culture among Cuban, Dominican, and Puerto Rican communities in the Rust Belt.
Lenore Thomas is an Associate Professor in the Department of Studio Arts. Her artwork has been shown in group and solo exhibitions nationally and internationally. In addition to her solo work she has recently been focused on two collaborative projects with photographer Ivette Spradlin. Thomas received her MFA in Fine Arts from the University of Wisconsin-Madison and BA's in Religious Studies and Fine Arts from Lawrence University in Appleton, Wisconsin.